Hemlock Haven Resort
Located on beautiful Barker Lake
All of our modern cabins are located right on the lake with windows to enjoy the view. We have one, two and four bedroom cabins that are fully furnished and have full kitchen facilities including microwaves. Your rental includes an aluminum boat, charcoal grill, linens and picnic tables. Please bring your own personal towels. Motors are available.
We specialize in Family Reunions. Our resort is perfect to take over for a long vacation weekend or week of vacation with your family.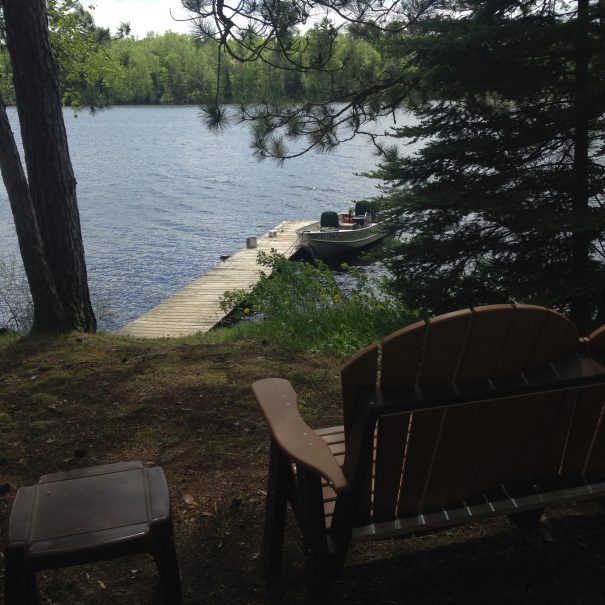 "Let Hemlock Haven Resort be your haven from the outside world. Come join us in our wilderness retreat. We are located in the Chequamegon National Forest with 23 acres of wooded land and a quarter mile of frontage on Barker Lake. We know your stay will rejuvenate you and that part of our serenity will remain with you."
Big Eddy
4 Bedroom Cabin, 8 people
$1,250 Weekly // $250 Daily
Snap Tail
2 Bedroom Cabin, 4 people
$975 Weekly // $195 Daily
Goose Eye
1 Bedroom cabin, 2 people
$875 Weekly // $175 Daily
Dogs
$25 Daily // $125 Weekly
Motors
$25 Daily // $125 Weekly
Extra Person
$20 Daily // $100 Weekly
Check-In 2:00 p.m. Check-Out 9:00 a.m.
Wi-Fi available on premises
All cabins are air conditioned!
Boat included with rental. Motors extra.
$200 deposit due with reservation
All prices subject to WI Sales Tax
Short Lodging Stays Available
Weekly Lodging Rentals Saturday to Saturday
WE DO NOT ACCEPT CREDIT CARDS
Hemlock Haven Resort
W7101 Hemlock Haven Road
Winter, WI 54896
Things to do in the area:
Children: Enjoy playground on premises.
Fish: Barker Lake is known for its quality fishing on all types of fish. Musky over 40″ are not unusual…and the Smallmouth Bass Fishing is fantastic! The renowned Chippewa Flowage is only 5 minutes away with guides available.
Canoe: We are located on one of Wisconsin's beautiful canoe trails. The waterways range from wooded lakes to class 3 rapids. Canoe rentals available.
Golf: Our nearest neighbor is a 9 hole 36 par golf course located right on the lake. Other sporty courses are located nearby.
Swimming: A shallow, sandy play area at waters edge is perfect for young children.
Hunt: We are open for deer and grouse hunting seasons.
Fall Colors: Enjoy our beautiful Fall colors.
We are only 20 minutes from Hayward, WI with all of its activities: Fishing Hall of Fame, Wilderness Walk, Horseback Riding, Fishing Tournaments, Lumberjack Shows, Pontoon Rides, Fall Colors & Scenic Tours
Hayward Lakes Visitor and Convention Bureau: www.haywardlakes.com
Hayward Area Chamber of Commerce: www.haywardareachamber.com